Lectrosonics DCHR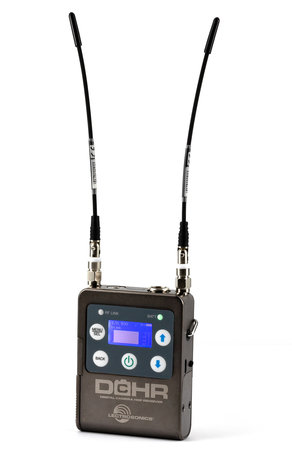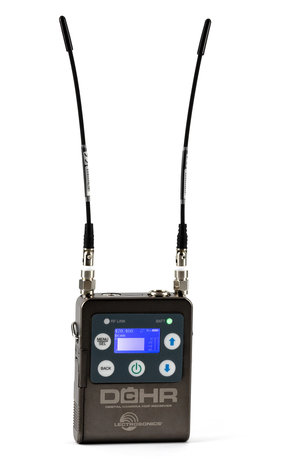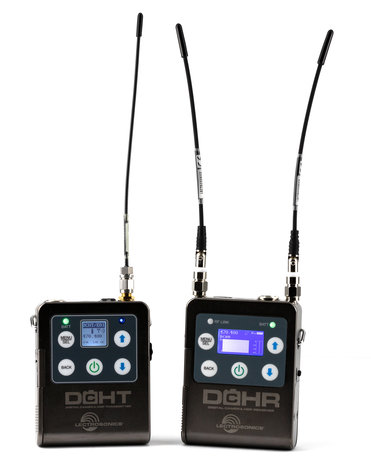 Product description
Key features :
Tunes across 144 MHz from 470-614 MHz (covers A1 and B1 ranges)
Compatible with DBu, DHu, DPR, DCHT and MT2 Transmitters
Selectable AES3 or analog mic/line level outputs
AES 256-CTR encryption
USB port for firmware updates
Two AA battery power
Solid machined aluminum housing
Optional powering from external DC with LTBATELIM
Extremely fast RF scanning and setup via IR
New Compact and Lightweight Miniature Receiver is Capable of Stereo or Mono Operation from a Single RF Carrier with Lectrosonics Digital Transmitters
The DCHR is a miniature, portable digital receiver capable of stereo or mono operation from a single RF carrier with Lectrosonics digital transmitters including the DCHT, M2T, DBu, DHu and DPR. The unit tunes from 470-614 MHz in the UHF band, covering 6 Lectrosonics blocks and matches the tuning ranges of the digital transmitters in the D Squared, DCH and M2 Duet lines.
The DCHR is extremely compact and light weight, measuring only 76 x 60 x 16 mm and weighing only 259g with batteries installed.
Setup is extremely quick and easy with ultra-fast RF scans in SmartTune and using IR sync to send settings to the associated transmitter. Manual tuning can also be done using the RF Scan screen, or simply by entering the frequency in the tuning screen. The audio outputs on the TA5 locking connector can be selected in the menu as analog or AES3 format. A 3.5mm stereo headphone jack on the top panel can be used to monitor the receiver audio signals. Detachable SMA-mount antennas are included with the DCHR.
Powerful AES 256-CTR mode encryption is included, with four different encryption key policies available including Universal (common to all Lectrosonics D2, M2X and DCHX units), Shared (great for sports coverage), Standard, and Volatile (one-time use key). Optional accessory cables are available for both analog and AES3 connections to associated equipment. The optional LTBATELIM battery eliminator can be used to power the DCHR with external DC. The optional LRSHOE accessory can be used to mount the receiver on small cameras. A USB jack on the side of the unit can be used to update firmware in the field, using the Lectrosonics Wireless Designer software. The DCHR housing is milled from aluminum alloy then specially plated for scratch and corrosion resistance.
Product specifications
Article number

LECD-SDCHR7962

SKU

LECD-SDCHR7962

Weight

259